As part of their investment into the Cloud Solution Program (CSP), Microsoft has been working on a new model to reduce licensing complexity and costs, as well as provide flexibility to support a range of client purchasing scenarios.
To achieve this, Microsoft has launched the New Commerce Experience (NCE) for Microsoft 365, Dynamics 365, Windows 365, and Power Platform for commercial seat-based subscriptions.
As  a Gold Microsoft Communications Partner, R-Group is here to help you stay up to date on the latest changes and updates to the CSP program so that you can take advantage of all available features, benefits, and opportunities that Microsoft has to offer.
In this article, we explain what changes are involved with the New Commerce Experience so that your transition is as smooth as possible.
Why are these changes happening and how will they affect my business?
Though these changes will result in a price increase for most businesses, there are plenty of benefits to the new platform including:
Cost savings on longer-term commitments
A Simplified licensing process
Greater choice and flexibility in how you purchase licensing subscriptions
Enabled growth through digital transformation and flexible buying opportunities
Key Changes
Microsoft 365 pricing will increase 01 March 2022.
Legacy CSP subscriptions will no longer be able to be purchased from 01 March 2022 (only NCE).
New subscription term options: Monthly, Annual (Paid monthly or Upfront), 36-Month Subscriptions (Paid Monthly, Annual, Upfront).
A 20% price premium will apply to monthly subscriptions.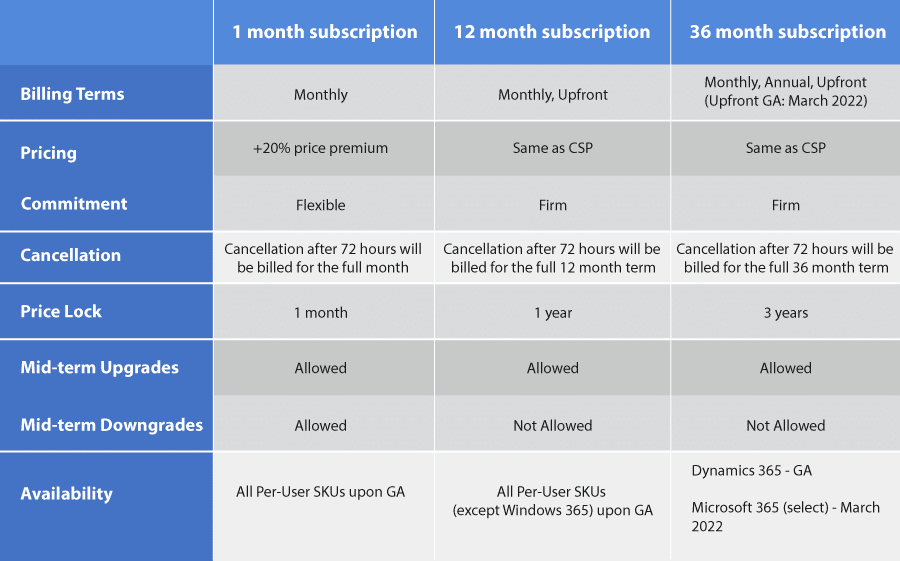 There will be some additional changes that will be rolled out over the course of this year. These mainly relate to which products are available for which term (see 'Availability' above).
If you have any questions regarding the NCE Experience, please do not hesitate to write to our sales team at [email protected] or phone 1300 789 398.